Howdy y'all.
My name is Jamie, I am 23 and currently living in Downtown Houston with my boyfriend. I am the proud owner of a chocolate pit bull whom we adopted from the city pound in September. She is my
first pit bull but definitely will not be the last. I have no personal experience with bully breeds besides pet sitting, my sister owning one, and the ones I have met/taken care of from working at doggie daycares and boarding facilities. I have learned a lot from pitbullforum.com where I am also a member and where I found this forum(holler
) and we are trying to be the best pit bull owners we can with Karma.
I am very involved with dog rescue(my passion) and dedicated to the cause. I rescue and work with German Shepherds, Siberian Huskies, and Dobermans(my other loves). Initially our next dog was going to be a rescued Dobie but that fell through and shortly after I noticed an email with an urgent plea for 90 day dogs at the city pound. My avatar is the picture of Karma that was in the email that captured my heart. We went down to the shelter, met her, bathed her, and adopted her
Karma and I graduated from basic obedience last Tuesday. She is around a year or so old and didn't even know how to sit. She was also dragging our arms off at the shelter when we walked her, my boyfriend could barely control her. I am excited to say that she has come a long ways and we are turning her into a model canine citizen and working on making her an excellent breed ambassador which I believe is our responsibility. When we move into a house I am going to get her into more obedience classes and either strive toward competitive obedience, rally, or agility.
Aside from Karma, we also share our lives with a 3 year old Siberian Husky named Zelda and a German Shepherd named Master Chief who was a Hurricane Ike rescue. I have already been exposed to ignorance regarding the breeds I own so I was prepared for the wrath of the pit bull haters, but man is it never ending!
A random fact about me: I am straight edge.
A random story about me: Once when I was 9 or so I was vacationing with my family and cousins in Florida. There was a sea turtle conservation lady who put up mesh fencing around sea turtles nests on the beach. Well my cousins, brother, and I got this bright idea to fake her out. We wanted to totally pwn the sea turtle lady. Don't ask me why, we were young and reckless. We woke up one morning before everyone else when it was still dark and ran down to the beach, carved out a mock sea turtle nest with our hands, made eggs out of sand and carefully places them in the nest. We even made a sea turtle trail going from the nest to the water. We high five each other then head back to bed. Sometime later we were rudely awakened from our slumber and in deep doo doo with our parents and sea turtle lady. But it was so worth it.
The goods:
Karmacita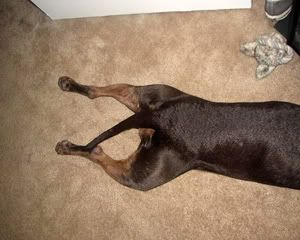 Master Chief(who in their right mind would throw this handsome devil away?!)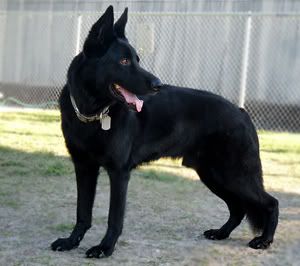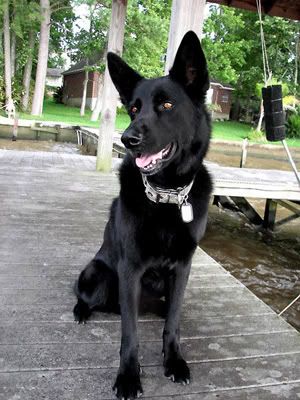 Zelda
I bought Zelda as a puppy from a BYB before I knew any better or had a clue. She is the most expressive dog I know and is definitely a typical husky. She provides our comic relief.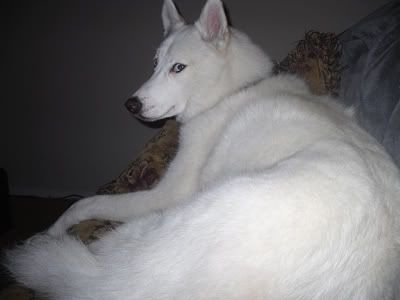 The humans:
and a group shot: