I'm Dee from NJ and I have a 12 yo Pit Bull named Kato!
I lost my dog, Ivan, a Pit Bull/Akita mix to cancer in Oct of 2001. I had read about the plight of Pit Bulls and wanted to foster one. My sister went to the SPCA just to look at the Pit Bulls and there were many in need. Kato had been brought in as an extreme cruelty and abandonment case a few months prior, had been fostered twice and returned. They asked her to take him because he was so anxiety-ridden that he had hung himself, in an attempt to escape his kennel. He was put in a padded cage to protect him from further injury and was rapidly deteriorating. She knocked on my door and when I saw Kato, I just opened my arms and he ran right into them. We have never looked back.
I have never met a sweeter, more loving animal in my life.
Here's a very poor pic of Kato about a month after I had him. He was about 31 pounds, but all his cuts had healed.
Here he is now: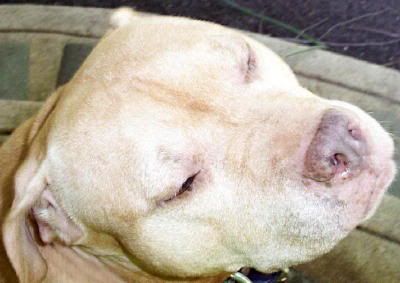 There are also pics of him in the Gallery.
A little about me:
I did cat rescue back in the 80's, with a few dogs thrown in for good measure. I especially enjoyed coursing with a Whippet that I found on the highway. I love being surrounded by animals, but only have Kato at the moment.
Oh, I also have fish & frogs and am a moderator on a fish forum.
See Michelle, I told you I was boring!