Shelby and I spent the day out and about yesterday, she ran some errands
with me and got a couple chances to run around and enjoy the brisk fall day.
First we went to my work because I had left some textbooks I needed there.
I'm don't do offleash at parks or anything, but there is an open field that no
one is ever in behind the hospital (not pretty, though!) so I let her offleash and
played fetch with her hedgehog while I played with the sport mode on my camera.
Silly tail!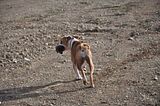 Then we went to a park by our house for some walking and a little bit of distraction
obedience. She does well with the distractions that her dog classes presents, and
with the distractions that a store like Home Depot or Petsmart provides, so I thought
it was time to step it up a little. Yesterday she saw her first squirrel.... and failed.
We will continue to work in the park because she couldn't even bring herself to make
eye contact with me for watching the squirrels, and she usually has excellent eye
contact. Boooo for too much distraction, but she still got a nice little walk in and we
played on some unusual surfaces at the playground.