Sofie turned 13 on Saturday! I thought I would take this opportunity to talk about her and how I got her and her life until now
When I was around 7-8 years old a toy poodle was given to my family as a first dog for me. He was around 8 years old and was going to be euthanized because he was attacking this woman's chickens and pretty much they just didn't want him. We had him for about a year and a half - two years when he ended up with lung cancer and had to be put to sleep. I was totally devastated, he was a great first dog. It was horrible not having a dog and I wanted another one and we started looking, my sister found an ad in the paper for a free 6 month old lhasa apso/terrier cross who had just been spayed and had shots.
We drove out to Portland [like a 30min drive] to see her. She lived with a Golden retriever and at the time had really long hair. She was basically given run of the house and the people claimed they didn't want her because they couldn't give her the attention she needed. I said I wanted her because I really wanted a dog, I would have taken any thing at that age haha
So really, those people didn't want Sofie because she was NUTS! Our old dog was crate trained and slept in the pantry, no problems. Sofie however in a 2 hour time span leaving her at home tore up a door jam. We got her a kennel, she pulled the metal windows out, ground all of her teeth down, would whine and bark and drool and pant and be nuts. She was on clomicalm and it did NOTHING for her. We started leaving her out in the front room where she continuously tried to eat the door jams and the door itself. Even with the other dog and cat at my parents she would still try chewing through the door. She luckily doesn't do this at my apartment, but I think it helps that the space is more confining.
She does alright in a kennel at work but on occasion has an anxiety attack. She used to be a lot worse and whine and dig and drool but now she'll just pant and get all crazy eyed if she has an attack, which is rare. We had to electrify our chainlink fence, just run a line on top because if I left the house and she was outside she would try to jump the fence and follow me.
She was the first dog I ever taught things to. I taught her how to shake hands, roll over, sit pretty [she sits on her haunches and basically "begs" haha], spin left and right, speak, she learned how to target a tupperware lid so I taped it to the door and taught her how to close the front door. She can do it without the target I just needed to teach her where to hit the door. She was the first dog I had ever taken to an obedience class and has always been GREAT on a leash.
She's a typical terrier, very independent, when off leash she has to pee on everything and when she could hear didn't have the best recall, now she can't really hear so you have to wave your arms and jump around and she'll eventually come. She likes chasing cats and birds, she's boss in our "pack". She's been a really good dog other than being a little crazy, I lovers her so much!
So I made a human cake but forgot it was in the oven and it became quite dry oops. I had planned to give her some anyway but decided it was not yummy enough to frost so I gave her a couple chunks with whipped cream and here is the happy old lady: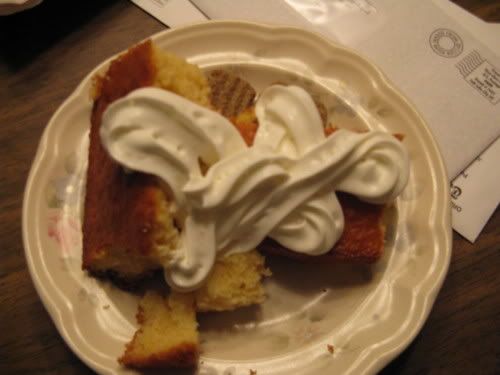 Cake