I don't have any really new videos of Twitch, but I think these are some funny ones.
WARNING-- he can whistle and beep pretty loud, but his talking is much quieter.
This is a song he made about Jasmine. Jasmine is his new favorite word lately.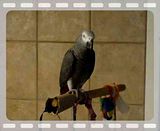 Jas-up-Jas-up-Monkey... JazzaminJazzamin..down at the bar. Lollypopwaaaah Jas-min, Jas-min, Jas-min, (over and over). Step up. Jaz-puppy. Step up Twitch! burp noise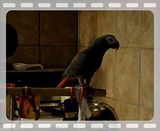 Yup. Oh nothing much, stop it. Hahahaha. Cool. Yeah. Yup. (Sneeze) Jazza-Jasmine.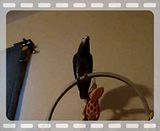 "Hi birdie, too" "Come on Piper, Come on, come here, Piper! Come here Piper, come here" "Mkay" "Come on. Sidney! come here" smoochies, whistle, "Come here good buddy" smooch "C'I have a smooch?" smooches, "Where's Jasmine, buddy?" "Hi Buddy good boy!" "Ready, ready, ready? Go!" random house noises "Jazzy buddy" "Hi Jasmine good boy" more smooches "Hey buddy" "Hi Jazzy buddy" random noises and smooches "Piper! Come here!" "Come on, come here, go outside?" water noise