Introducing Zuzu
I wanted to introduce you to the newest member of my family, Zuzu. She came to live with me last week and she is a hellion!
I had been looking for either a French Bulldog or a Boston Terrier since before Kato passed away but when he took a turn for the worse I stopped looking as I knew it wouldn't be fair to him to bring another dog in.
A couple of weeks after Kato died I started looking again. It was just too lonely here without a dog.
I decided to get a small dog even though I would have loved to get another pit bull but with living in an apartment and having a few health issues a small dog was a better choice for me right now.
At the same time I was looking Lisa (Collarmania)emailed me and introduced me to her new dog...a Boston Terrier. It was so weird because I had been looking for one too so Lisa R. joined the search, along with Christine.
I had been looking at local rescues both before and after Kato passed but couldn't find what I was looking for. We looked for quite a while and one evening Lisa sent me this picture and wrote " I found her"!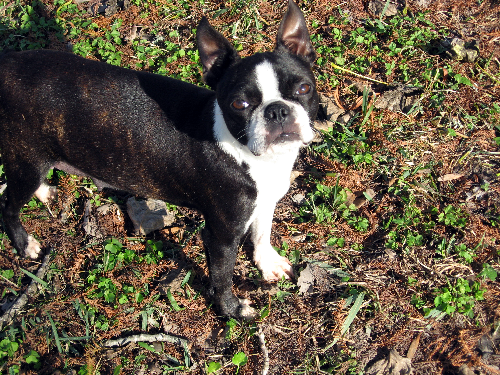 It was love at first sight! Zuzu's owner was "placing" her because she was pregnant and moving and just didn't have time for a dog anymore. I spoke with her on the phone for a long time, exchanged emails with her and finally decided to make Zuzu a part of my family.
She was living in New Orleans so we made plans to fly her here the next Friday, on the 1 month anniversary of Kato's passing. I thought maybe this was his way of approving my decision. I made plans with my friend, Lisa, to pick her up at the airport at 2:00 PM the following Friday.
The flight went well and here she is.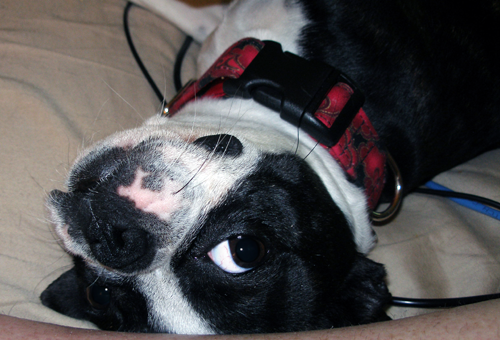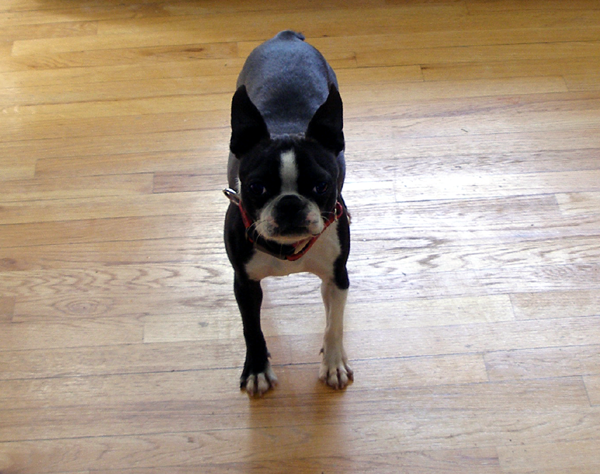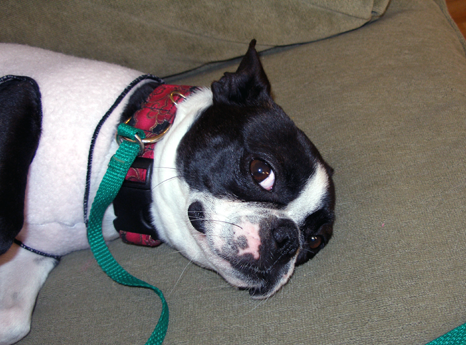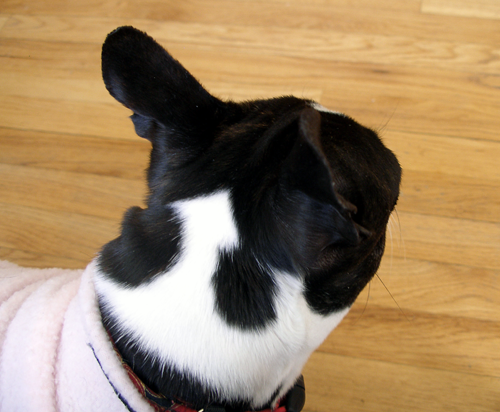 I like the marking on the back of her neck. It looks like an arrow.
I don't have very many pics because she's in perpetual motion and my camera is too slow for her.
Lisa (Collarmania) emailed me a couple of days later and asked me if I was thinking of names and as I was about to tell her the name I had foremost in my mind I got an email from her with the very same name! It was crazy. Who pulls a name like Zuzu out of the air like that?
I guess Lisa and I were destined to have Lulu & Zuzu.
I forgot to tell you that Zuzu will be 2 years old on June 22 but OMG, she still acts like a puppy. (she says as she pulls the laptop cables out of Zu's mouth.)
I started a blog today.
Here's the link if you want to check it out.
http://zuzutopia.wordpress.com
Thanks for looking & reading.