I don't think I've ever posted pictures of our horses. We call them the boys as opposed to our in house pets who are all female. Right now we board BUT very soon, they will be coming to our neighbor's farm! Anyone in the Rochester area know a good horse vet?
Sunday was a good day for washing dirty boys!
George is washing our 5 year old Quarter horse Redman.
This is my big boy Ernie. Also a Quarter horse. He is impatiently waiting to dry.
Ernie posing for me in the pasture.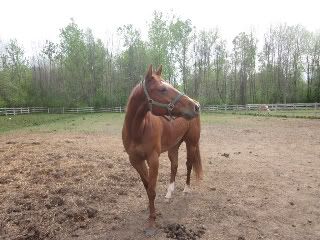 Redman drying in the cross ties. As soon as we let him loose in the pasture he was upside down twisting and grinding all that dirt right back in. He is also known as Pigpen.
I took this picture of theresident barn cat because she looked too sweet to resist. Don't let her fool you though, she can decapitate a Barn Swallow in .5 seconds!