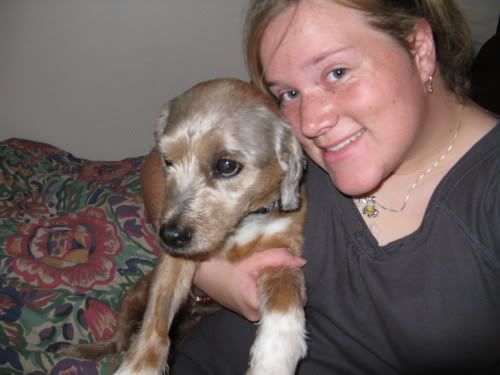 Suzanne adopted Sofie when she was 6 months old. Sophie was quite a handful with her separation anxiety and chewing through kennel doors! For a small Lhasa/Terrier mix, she was quite feisty.
Sofie was fortunate to have Suzanne as her Guardian Angel.
Suzanne works at a Vets office, so not only did Ms. Sofie Pants go to work with her sometimes, she got the best care imaginable.
Sofie recently celebrated two milestones. One was her 14th birthday!
That would be over 70 in human years. The other was being a 2010 PBT Cancer Calendar Warrior. She was diagnosed 9/26/2009 with Sinonasal Carcinoma. She is our Miss August.
It is with a sad heart that I am posting in this section. To Sofie, I ask that you watch over Suzanne and now be her Guardian Angel. To Suzanne, I cry with you.
Suzanne made a video that I hope she will share with us.