I got a heartbreaking text message from my mom this evening saying, "Will you go with me to put George down? He can't live like this any longer."
George was born on December 12th, 1993.
1993
!!! I was in first grade when my step dad got him for my mom... for an anniversary present I think. I remember thinking it was an odd surprise, as I don't think she had ever mentioned wanting a chihuahua. After all, we already had two english bulldogs. But that winter George came to our family and I never could have imagined the life he had ahead of him.
My baby sister was only seven or eight months old when we got him. They grew up together. I remember teaching him recall in the garage with my neighborhood friend... we would call to him, "Come here pretty puppppyyyyyyyy" as he ran back and forth to both of us. We thought we were so clever in singing, "Georgie Porridgey, pudding and pie, kissed the cats and made them cry, when the dogs came out to play, Georgie Porridgey ran away!"
His mom only weighed 4lbs... and somehow George ended up peaking at 15lbs (I think.) His norm was around 11 though. Crazy enough, he wasn't even fat! He was just... big. (he fit in with the family.)
George was so ornery. I think we all had that, "he's small so it's cute" mentality that I now despise. Like a typical chihuahua, he wasn't the most
inviting
... as a matter of fact he was known as "the mean dog" amongst mine, and my siblings' friends. When my little brother came home from being born in 1996, George bit him on the foot. It didn't hurt my brother, but I remember being terrified that we were going to have to get rid of him. But after all, he was a chihuahua, and it was
no big deal
. He bit several people in his younger days... but never injured anyone. We were lucky that most people also thought it was "cute". He was prescribed valium for circumstances requiring visitors to the house.
He was wonderful with us though. He loved burrowing under the covers. He would curl up in the bend of my knee, like a little donut. Most of all I liked that he wasn't a weird little dog. He was tough. He was cool. He didn't shiver or hide from things. He mostly just lounged around, or barked at passersby...whichever.
George apparently was a bionic dog. When I was in third grade he ate an entire 'personal' sized chocolate cake...with chocolate icing. No joke, the cake was as big as he was. We thought it was safe on the dining room table, but apparently that was before we knew he had learned to use the chair to get to the goods. I cried my eyes out that night... I just knew he was going to die.
As he got older, George became much more tolerant of people. I think he finally realized that being nice gets nice things in return. He always slept in bed with my mom. She always said, "George has been the most reliable man in my life...the only one to stick around." My siblings and I used to argue about who was his 'favorite'... next to my mom of course. I never was really his favorite, until recently. I think my dog skills have improved.
In the past week George had been sick. He had been to the vet multiple times, and even had to stay overnight for barium xrays a few days ago. He was severely anemic, but the vet was having a hard time determining the cause. She said he was totally healthy other than his blood count, and she couldn't believe he was 17. Today, when he refused to even drink chicken broth from a syringe, and yet was still vomiting, my mom realized that it was time for him to go. I had told her a few days ago that I wanted to be there if she had to put him down.
When we arrived, the vet told us that his test results showed his bone marrow was unable to produce enough red blood cells. My mom asked for the vet's reassurance that it was the right decision to let him go...and of course it was.
I had never lost a pet before. Our family has never lost a pet before. My mom and her fiance were absolute wrecks when I showed up at their house. It broke my heart to see them both so upset, but also made me glad to know that George was SO loved.
My mom and I held him as he went. It was peaceful. I said to my mom just before that he seemed ready...He was tired... He just wanted to sleep. I haven't cried like that in a long time. It was a sobering experience, and was one of the most emotional things I have ever been through.
George was a member of our family. The same age as my sister, and older than my brother. He has been a comfort for us during times of sadness, and provided us with unconditional love that only a dog could show.
I am heartbroken, but okay. I just worry about my mom. He was her baby.
In his young days: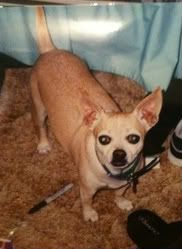 Me and George when I was a kid:
In his golden years:
Thanks for letting me put this out there...