My boss brought in his neighbors sick cat. The cat was a tom cat brought with his owners from Russia to the states. He had an abscess they were treating at home and he was very ill. If I remember correctly his red cell count was down to 4%. He tested positive for FELV. The boss's wife was at home which is pretty far away and my boss did not think the cat would make it long enough for another cat to be brought in. At the time I lived about 9 miles away so I volunteered my gorgeous boy to give blood to this cat. Supposedly this woman loved her cat dearly... My cat had been having a lot of bladder issues so I figured while he was in we could do a bladder x-ray.
I never knew that would be the last time I would see him alive.
I brought him to work and we sedated him with dex-dormator/ketamine. He was a 14lb cat and we drew I think almost 60ccs of blood. We just took an x-ray and I was in developing it and when I came out my tech friend said "He's not breathing." I was in a state of shock for a moment, then of course I started crying, my sister told me to grab things for a catheter and hold his leg off which helped me focus. We got a catheter in his leg and my boss kept breathing for him for what seemed like forever. I finally had to tell him to stop, that it wasn't working and that I just wanted to hold him. I just can't even describe what it feels like to see your pet alive one minute and dead the next. To top everything off we had a job shadow that day - I guess it was good in the sense that she got to see that not everything works out like it's supposed to.
I can't believe it has been 2 years, I still think about him often. He was really laid back, super squishy, and had a really cute squeaky meow. He liked to steal my hair ties and steal tissues... I'd also come home sometimes to find that he had taken [unused]tampons out of the box and hid them around my room. He was the more submissive/scared cat out of the two, his purr box was super loud and he was just a good boy.
I recently checked on their account because they hadn't paid their bill in forever. The cat made it a few months after the fact. There were no charges put in for a transfusion, no charges other than the exam and test and there was a note that said they "squared up" with the dr. It's so frustrating because my cat died for no reason. These people didn't pay their bill, the cat should have just been put to sleep, we shouldn't have gone to the lengths we did to help them. They really weren't the kind of people that deserved that kind of help and I just feel like my cat died completely in vain.
I felt horrible guilt for a very long time and even talked with an animal communicator. At the time it helped, it helped the wounds close but I still feel guilty about it. I thought I was helping them because I got this huge sob story about the cat coming from russia with this woman, and he was her baby on and on.
I really just miss this little guy so much. He really was a totally cool cat, I knew from the moment he came into the clinic I was going to take him home. I told my coworkers I would call him 'Pause' because of the markings on his head. It took my dad coming and visiting twice, and me convincing my parents we would just "foster". He became fast friends with my cat Napolean and they cuddled all the time.
It's been two years and I can remember the good memories without crying, but I still miss him soooo much. Really, I think March is a horrible month.
video:
http://www.youtube.com/watch?v=9aYjmoDZ47g
My boy Pause: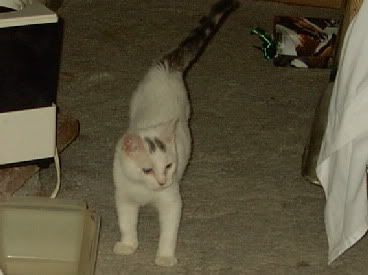 He was a bruiser :p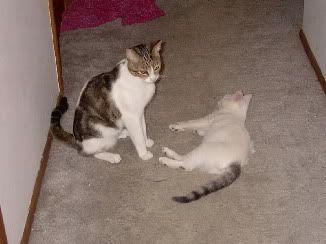 Their first time hanging out, Napolean wanted to make sure Pause knew he was in charge.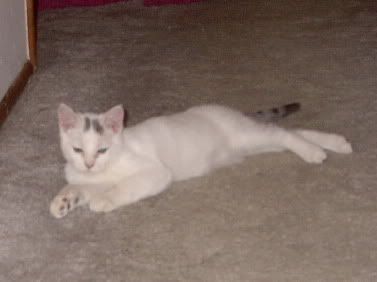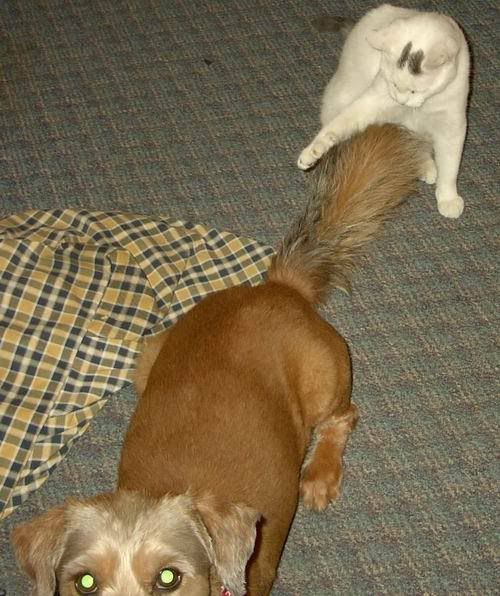 Him playing with Sofie's tail.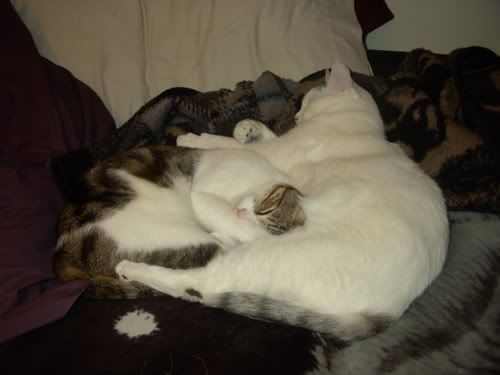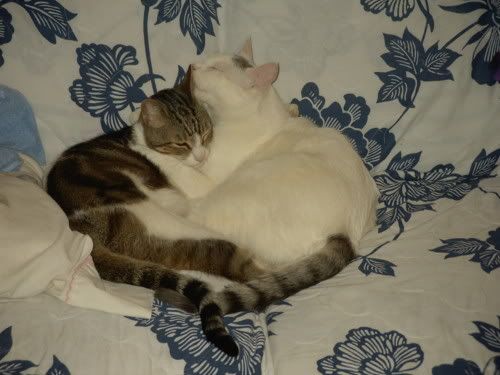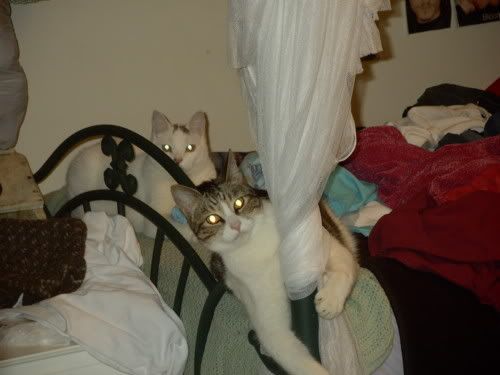 The boys.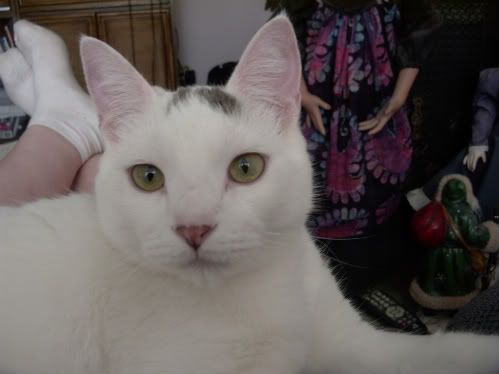 Pause