If any of you aren't sure who Sophie is, you can find her story in the Rescue section.
Today was the day to go pick up the girl. My friend Janine came with me. We got there right at noon when they opened. They were all so excited that one of the dogs was going home. We played with a couple other dogs and then got Sophie. She was very excited to be leaving! They microchipped her before we left and then sent us off with a bag of food and lots of hugs (of both me and Sophie!).
I had brought the car harness but Sophie didn't understand that she couldn't turn around so she kept getting tangled before we even left. So I unbuckled her and she was content napping in the back seat all the way home. She alternated between napping on the floor of the back seat, on the back seat, and then trying to climb up front so she could drive. We stopped once about halfway home for a potty break for her.
When we got home, Janine waited outside with Sophie while I went in to get Inara. We walked them for about 30 minutes. They seemed interested in each other in a friendly way, so a couple times we let them get close enough to sniff for a minute, then called them away and gave treats. I think they would get along and have a great time playing, but since I live alone I'm not going to try it.
I brought Sophie in and she immediately went for the cat, who, needless to say, was not thrilled. Not sure what her intentions were (play or prey) but I wasn't about to find out.
I took her upstairs - she paused for a minute at the bottom of the stairs, but then charged right up - and put her in my spare room. Janine and I sat with her for a bit while she played with the new toys I'd gotten her: a Nylabone dinosaur and an evil Cuz. She thinks the Cuz is the greatest thing ever invented and I cannot WAIT for her to kill the squeaker. She had a great time charging around, flinging the Cuz, and just acting like a total goofball. Who knows if she's ever had toys before?
She's a total powerhouse. Her pulling makes Inara's feel like a chihuahua. This girl was born to do weight pull! She also snorts constantly, like a little piglet. And snores like a lumberjack.
She doesn't resource guard anything - toys or food. She's a little mouthy when playing and will occasionally spring several feet straight into the air to try to reach your face for a full-contact hello. Her nails are very short (a professional groomer donated her services so all the dogs got baths and nail trims!) and her teeth actually look fantastic. She goes Thursday to the vet for a spay and to have her hernia fixed and mammary mass removed. I'm gonna ask if the vet can do a boob lift too as she has really saggy nipples!
I apologize for posting a link to my FB photo album, but there are 80 pics and I don't feel like posting every single link here. But here are the photos Janine took today documenting our adventure.
http://www.facebook.com/album.php?aid=2 ... 965&ref=mf
I also took a few videos of her playing - these were with my cell phone as my camera was dead, so excuse the quality. But you can see what a total doofus she is!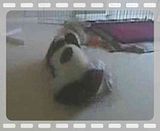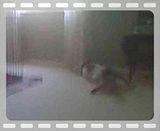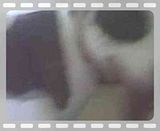 I cannot say thank you enough to all of you here who provided me with the emotional support and cheering section that enabled me to do this. And thank you to Jenn (LMM) who is going to take Sophie into her rescue when a space opens up. And thank you thank you THANK YOU to those of you who donated money - I wouldn't have been able to do this without you.