Recently my dog has gotten pudgie, especially around her belly area. She is 2.5 years old, spaded last April and weighs 55lbs. My boyfriend thinks she's perfect, "just not ripped" so I haven't been worrying about it. We even weighed her yesterday and she is STILL 55lbs. I took her to the vet on 2/20 and he did not weigh her, but said she looked healthy. Well last night at Flyball class, one of the assistants said, "She's putting on a little weight" and pointed right to her belly area. Opinions?
These first two pictures were taken in the begining of March. I think she looks healthy there.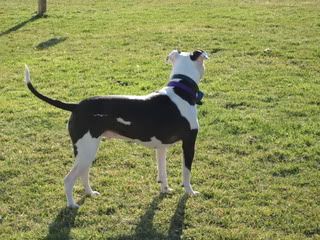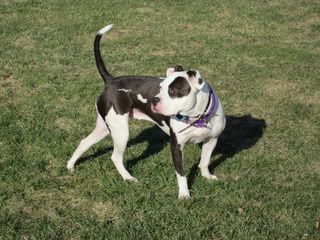 These two pictures of her playing with the neighbor dog, maybe a week later. Their dog is a sausage so maybe it makes Petie look thinner here?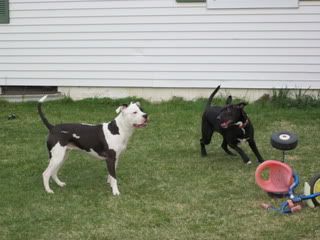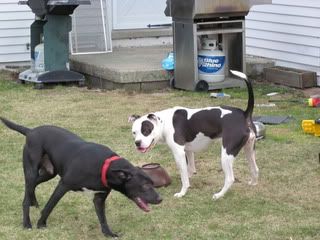 These last two pictures were taken on Easter. (I couldn't find any standing pictures of her)
BTW - I was using my grandma and nephew to see if she may have it in her to be a theropy dog! Good with baby, but probably shouldn't SIT on the elderly! LOL!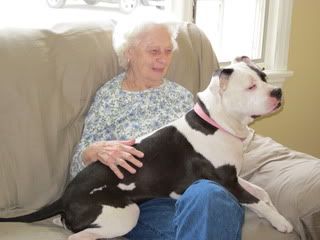 Right now we free feed her Purina One. We free feed because she is NOT a food hound and sometimes we have to remind her to eat. She eats when she feels like it. Which may not always be when we pour it for her.
I started feeding her treats back in November when we started training classes. Small chunks of hot dogs and and small chunks of cheese for Flyball class and any of our one on one training sessions. I WAS giving her a peanut butter Kong (even using natural peanut butter) in the AM when I left for work. I've changed that (today!) to putting a few chunks of cheese in the kong!
For exersize, she plays with that black dog for 15-45 minutes about every other day, sometimes every day. They
RUN
the whole time. The black dog is still fat because they feed him mostly table scraps. Petie has Flyball once a week. She is crated from 8am - 5:30pm.
It seems like this weight has come on pretty suddenly. Or maybe we have been in denile?? Any suggestions??