.
"There's not going to be any Peace and Love for Pit Bulls."
-Councilmember Kirby, Auburn, CA
WE SAY THERE IS!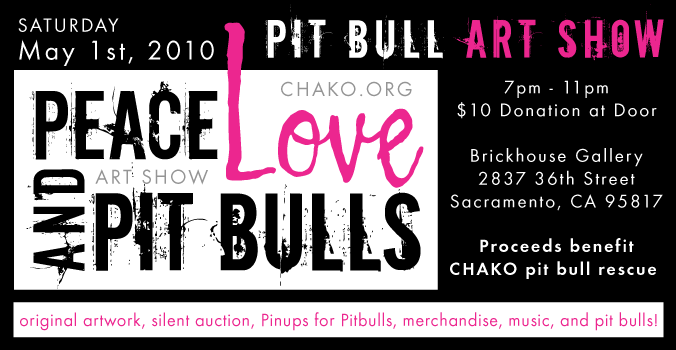 WHEN
: Saturday May 1st, 2010, 7pm -11pm
WHERE
: Brickhouse Gallery, 2837 36th Street, Sacramento, CA 95817
http://www.brickhouseoakpark.com
ADMISSION
: $10 Recommended Donation at Door
Our first annual PEACE, LOVE & PIT BULLS ART SHOW commemorates the official (pending) "non-profit" status of CHAKO Pit Bull Rescue! Yeah, we finally did it! (This is a humans only event, please leave the pups at home for this one, thanks!)
As Sacramento's only dedicated Pit Bull Rescue, we are asking all you Bully lovers and parents to come out and show your support for CHAKO and this long awaited achievement. In order for CHAKO to start servicing this Sacramento Valley area the way we want to, we need your help in the form of donations (purchased art, etc.), volunteer support, and your physical support - just showing up to party!
The evening will be filled with music, dogs and more:
- Amazing PIT BULL specific artwork
- Proceeds benefit CHAKO Pit Bull Rescue
- Silent auction tables with lots of doggie and people goodies…
- Amazing merchandise from companies we all know and love like
PACO COLLARS ,http://pacocollars.com/
COLLAR MANIA ,http://www.collarmania.com/ and more…
- Special guest Pinups model Ana Poe (of Paco Collars) will be representing Pinups for Pitbulls!
Proceeds from this event benefit Chako's programs.
For example, currently our rescue and foster homes are kindly bearing the burden of the expenses associated with getting the dogs "adoption ready." Each dog we process costs about $500 to get ready for adoption (spay/neuter, vaccines, HW test, HW prevention, food, microchip, vet care, etc.). In order to bring more foster homes into our system (thus saving more dogs) we must be able to provide more support for these generous people (foster parents).
PEACE, LOVE & PIT BULLS is being held by CHAKO Pit Bull Rescue and Sacramento Responsible Pit Bull Lovers. Event coordinators Dawn Capp and Amy McMullan encourage you come out and help us put Sacramento on the "Pit Bull Rescue" map!!
http://www.chako.org/art.html
* permission to crosspost *